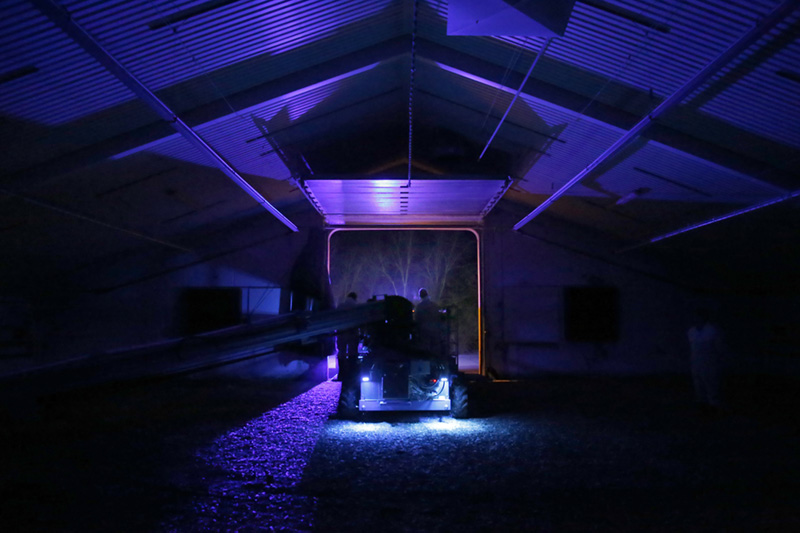 T H E L A N D

WORLD PREMIERE
Jacob Kirkegaard's new composition on the sounds of agriculture.
With the use of vibration sensors and near-field measurement microphones
THE LAND reveals the mechanically pulsating energy of food production

WORLD PREMIERE at ((o)) Gong Tomorrow Festival, Copenhagen, Denmark, Nov 10, 2022

With support from KODA Culture, Danish Composer's Society and the Danish Arts Foundation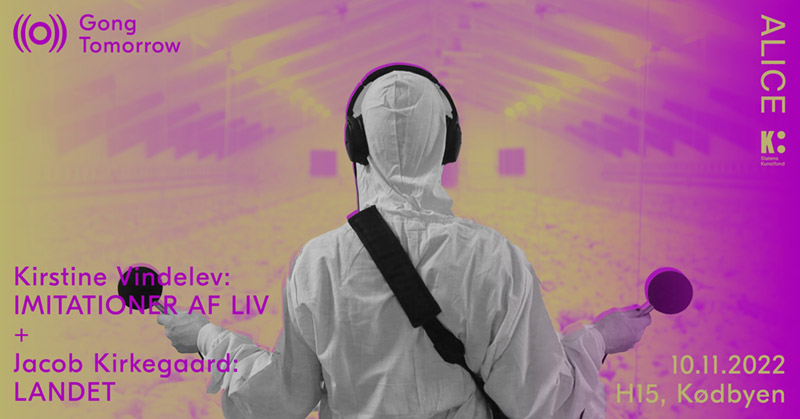 ________________________________________________________________________________



Chaos Edge uses two different recordings of butterflies. The first part of the work presents the stable but increasing tremble recorded from the tip of two wings on a butterfly poised for flight. The second, the unpredictable movement of the wings of a tethered butterfly in full flight mode.
Using these sounds from the butterfly, Chaos Edge seeks to sonify the "butterfly effect": both the classic poetic metaphor that illustrates chaos theory, in which a small change in a system has a large influence in shaping its evolution, and the more recent quantum mechanical analogue, where the butterfly effect is thwarted by preparing a particle in a specific quantum state which is taken back in time and modified without changing its nature in the present.


About the exhibition: This year Danish Cultural Institute celebrates the 100 years of Danish physicist Niels Bohr being awarded the Nobel Prize. They do this with 3 different sound installations by Anna Kirse, Tie Yann and myself interpreting the work of Niels Bohr. They will be co-exhibiting at 3 different locations in 3 different countries opening at the Culture Night in Copenhagen on October 14th and at Niels Bohr Institute, Universitetsparken 5, where many other Science Campus events will also take place. After the opening the exhibition will move to H.C. Ørsted Instituttet where it will stay open to the public for another month and then to Riga (15th of October) and Beijing (11th of December). The exhibition is made in collaboration with Visionary Culture Foundation and supported by Danish Ministry of Culture (SLKS), Danish Ministry of Foreign Affairs, William Demant Fonden, Knud Højgaard Fond, Danish Composers Association Koda Kultur (Dansk Komponistforening), Danish Art Foundation (Statens Kunstfond), Latvian State Capital Foundation.
The video was recorded at the Botanical Garden by Frederik Wolff in Museum of Natural History in Copenhagen.
________________________________________________________________________________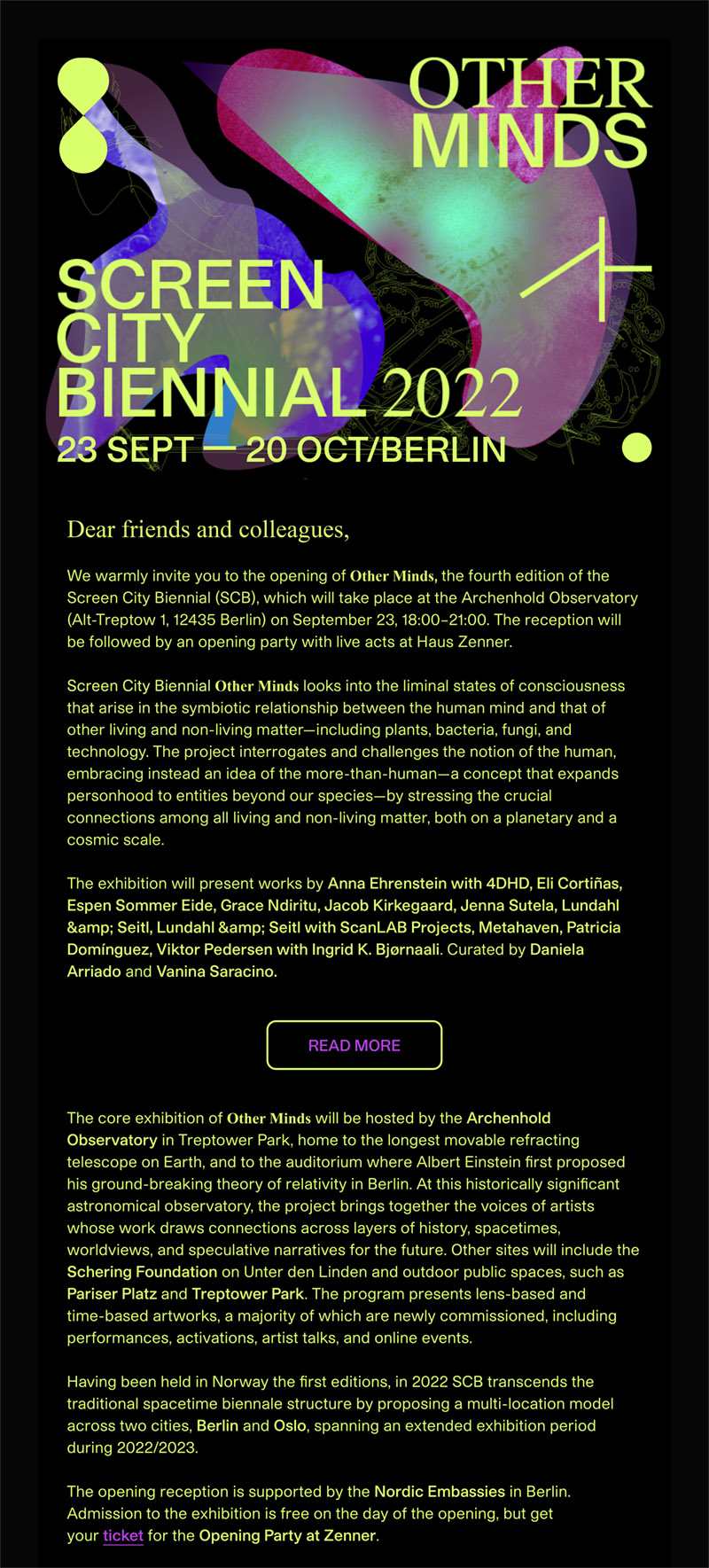 ________________________________________________________________________________

C R O S S F I R E

The Danish composer and sound artist Jacob Kirkegaard has taken weapons and war as the subjects of his latest work, KRYDS ILD, whose world premiere will be performed by the Royal Lifeguard's Music Corps

Jacob Kirkegaard's original work CROSSFIRE was created from sound recordings of firearms and artillery. The work was transcribed for orchestra and entitled KRYDS ILD. The work evokes the sounds of a war situation. More than just a collection of sounds, Kirkegaard interviewed a war veteran who spent time under fire, talking with him about the human sound of war, the endless, unbearable wait and then the sudden, deafening crossfire.
From this conversation Kirkegaard was able to approach question that shaped this work: What does war sound like?

Kirkegaard has sought the answer to this question through a year of audio research including several visits to the Danish military shooting ranges, as well as to shooting ranges with civilian weapons' enthusiasts. He has made sound recordings with sensitive vibration sensors placed directly on firearms and military vehicles as well as with acoustic measuring microphones positioned in shooting ranges. Jacob Kirkegaard has listened attentively to the mechanics of the weapon, the cutting of the projectile through the air and the deep echo after the explosion of a grenade. He used his recordings to compose a work that was then transcribed especially for The Royal Lifeguard's Music Corps.

The work is orchestrated by Connor McLean and published by Edition·S. CROSSFIRE is commissioned by KLANG Festival.
World Premiere: Friday 2 September 19.30, Stærekassen, Copenhagen.


With support from KODA Culture, Danish Composer's Society and the Danish Arts Foundation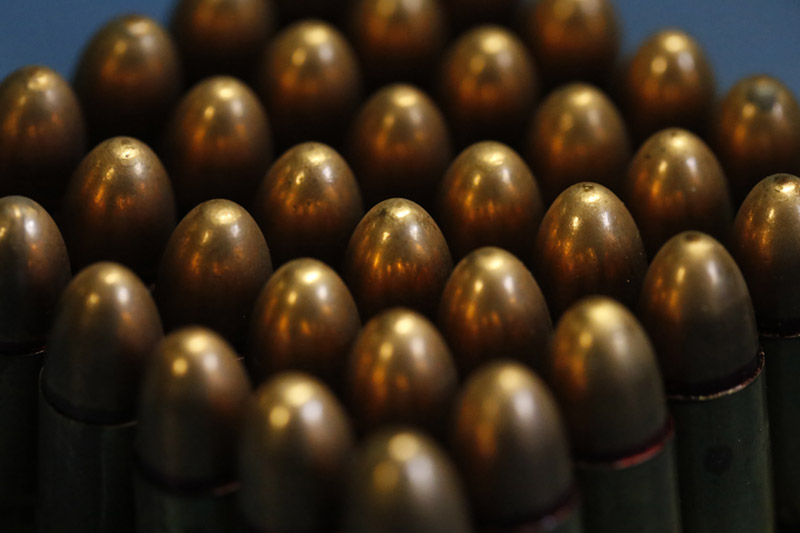 ________________________________________________________________________________




When I listen, I have to be quiet. Sound Artist Jacob Kirkegaard
LOUISIANA CHANNEL, September 2021
________________________________________________________________________________




T E S T I M O N I U M - A T H E N S
New work based on sound, vibration and video recordings of dumping sites and waste management facilities in Athens
Commissioned by ONASSIS CULTURE CENTER and Borderline Festival, Greece, May - June 2021
________________________________________________________________________________

M E L L E M R U M
Solo exhibition at Kunstmuseet i Tønder, Denmark, April 21 - Septembver 19, 2021
Works: OPUS MORS, MEMBRANE, MELT and a new work ANIMAL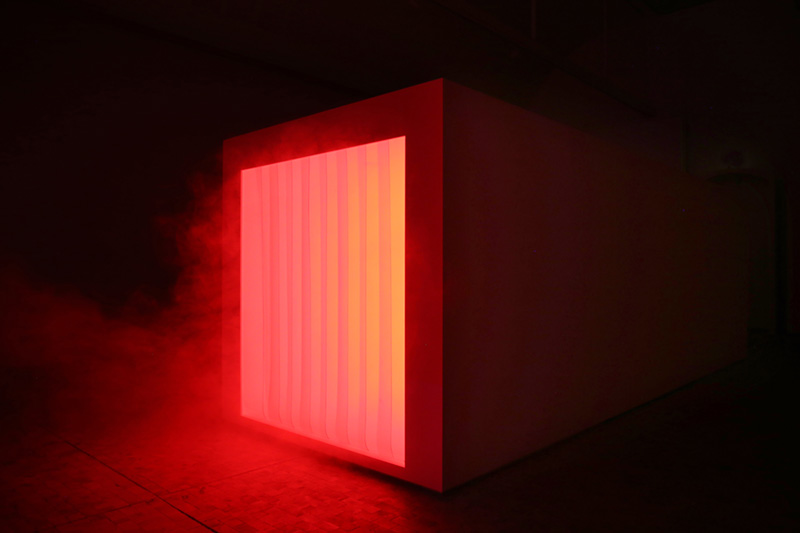 MELT at the exhibition MELLEM RUM at Tønder Art Museum, Denmark, March 2021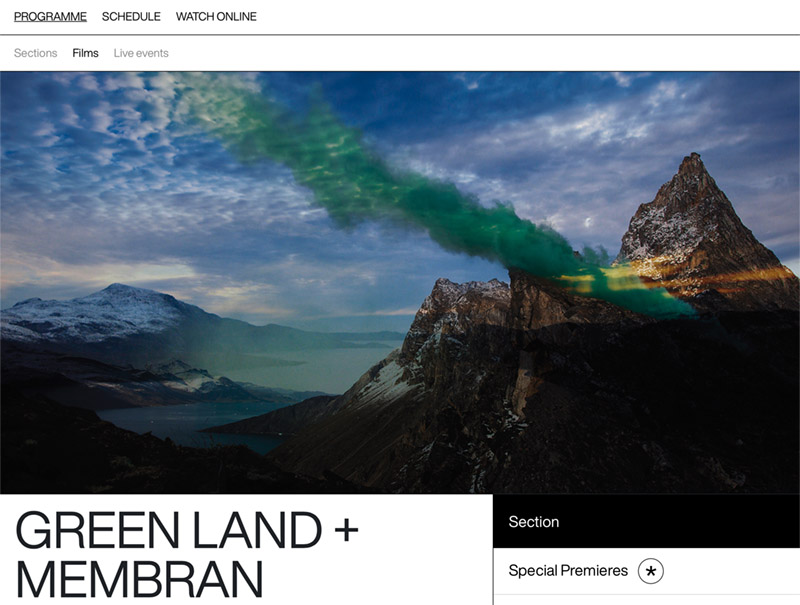 CPH:DOX, 2021
MEMBRANE is part of CPH:DOX, April 22 - May 5. Date for cinema screening TBA.
GREEN-LAND is part of CPH:DOX, April 22 - May 5. Date for cinema screening TBA.
________________________________________________________________________________
T E S T I M O N I U M

Solo exhibition at Fridman Gallery, New York, USA (Februrary 27 - March 27, 2021)
For the first time, Testimonium is presented in its most complete form: the video installation will be presented with
the 8-channel sound sculpture, and alongside Kirkegaard's photographs of the desolate industrial landscapes.

THE WIRE - TESTIMONIUM at Fridman Gallery, New York, USA, UK, April 2021
BOMB MAGAZINE - Listening to the Heart: Jacob Kirkegaard Interviewed by Julie Martin, USA, March 2021
FLASH ART - Decaying Sound, Sounding Decay: Jacob Kirkegaard, USA, March 2021
________________________________________________________________________________
August 25th, 2020: ANNOUNCEMENT
Jacob Kirkegaard's new work MEMBRANE
has been acquired by ARoS Art Museum, Denmark

MEMBRANE is part of the exhibition Far From Home at ARoS Art Museum, Aarhus (Until Nov 28, 2021)


________________________________________________________________________________
SOME SAY THE WORLD WILL END IN FIRE

New work for In Focus: Statements at Copenhagen Contemporary
Opening on June 25th, 2020
New sound installation by Jacob Kirkegaard in which multiple voices whisper the over 100 names that different cultures have used to describe ice and snow in all its forms. The names are spoken in eight languages; Danish, Faroese, Finnish, Greenlandic, Icelandic, Norwegian, Russian and Swedish, and are distributed over eight speakers throughout a bunker next to the Copenhagen Contemporary building.
The omnipresent and steadily whispering recitals of such names as Dead Ice, Frost Smoke, Glacier Tongue, Old Ice, Rotten Ice, Sastrugi, Tide Crack and Whiteout in eight Nordic languages is a subtle but persistent statement and tribute - not only to an undeniably disappearing phenomenon in times of globally rising temperatures but - to a vocabulary of words melting away as well.

The title of the work is quoted from Robert Frost's poem Fire and Ice from 1920 which imagines the end of the world. The names for ice and snow were collected from a Glossary of Snow and Ice published by the Scott Polar Research Institute in 1966.

Voices: Anna Katrin Øssursdóttir Egilstrøð, Anna von Hausswolff, Inuk Silis Høegh, Tuomas A. Laitinen, Tine Surel Lange, Runar Magnusson, Uilu Pedersen, Katinka Fogh Vindelev and Katerina Zavolokina.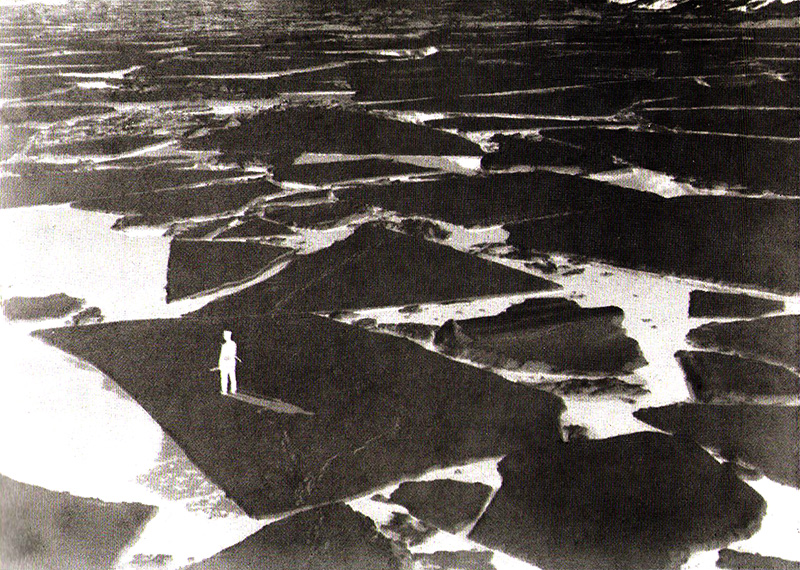 ________________________________________________________________________________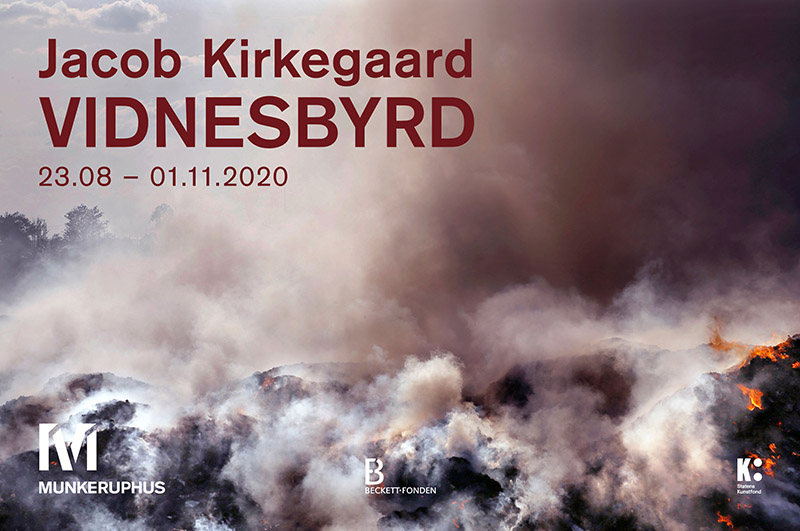 VIDNESBYRD

Solo exhibition at Munkeruphus, Denmark
Works: TESTIMONIUM, Testimonials # 1-2, Opus Crematio, Opus Putesco
and two new works Substratum and Necromonicon
August 23 - November 1, 2020
________________________________________________________________________________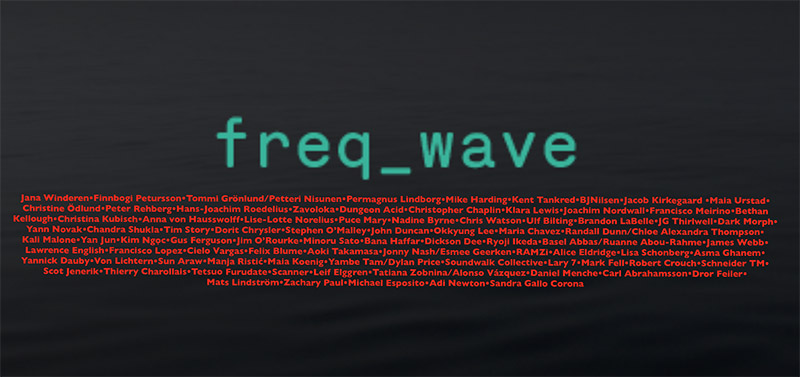 M E M B R A N E

Galleri Tom Christoffersen in Copenhagen, Denmark Feb 28 - Mar 21, 202

Membrane is a sound and visual portrait of the growing border wall that separates Mexico and the U.S. This long metal barrier takes many forms and is made of many different materials, as it winds and twists several thousand kilometers through deserts, plains, and mountains, crossing Native American land, national parks, and even city streets to end in the Pacific Ocean.

Kirkegaard travelled along the wall from El Paso to Tijuana, stopping at sites on both sides of the wall to shoot video and to record ambient sounds of the surrounding landscape a well as the inner sounds of the metal structure: By attaching vibration sensors directly to the wall at each site, he captured the resonant frequencies of the different wall structures.

Membrane, with its panoramic vistas and penetrating close up views of the wall, reveals that this seemingly desolate and silent area of the American Southwest is alive with light and shadow, and especially with sound, the sound of the wall itself.




Jacob Kirkegaard travelled with cellist Mariel Roberts and together they are currently working on a collaborative project using the material they collected: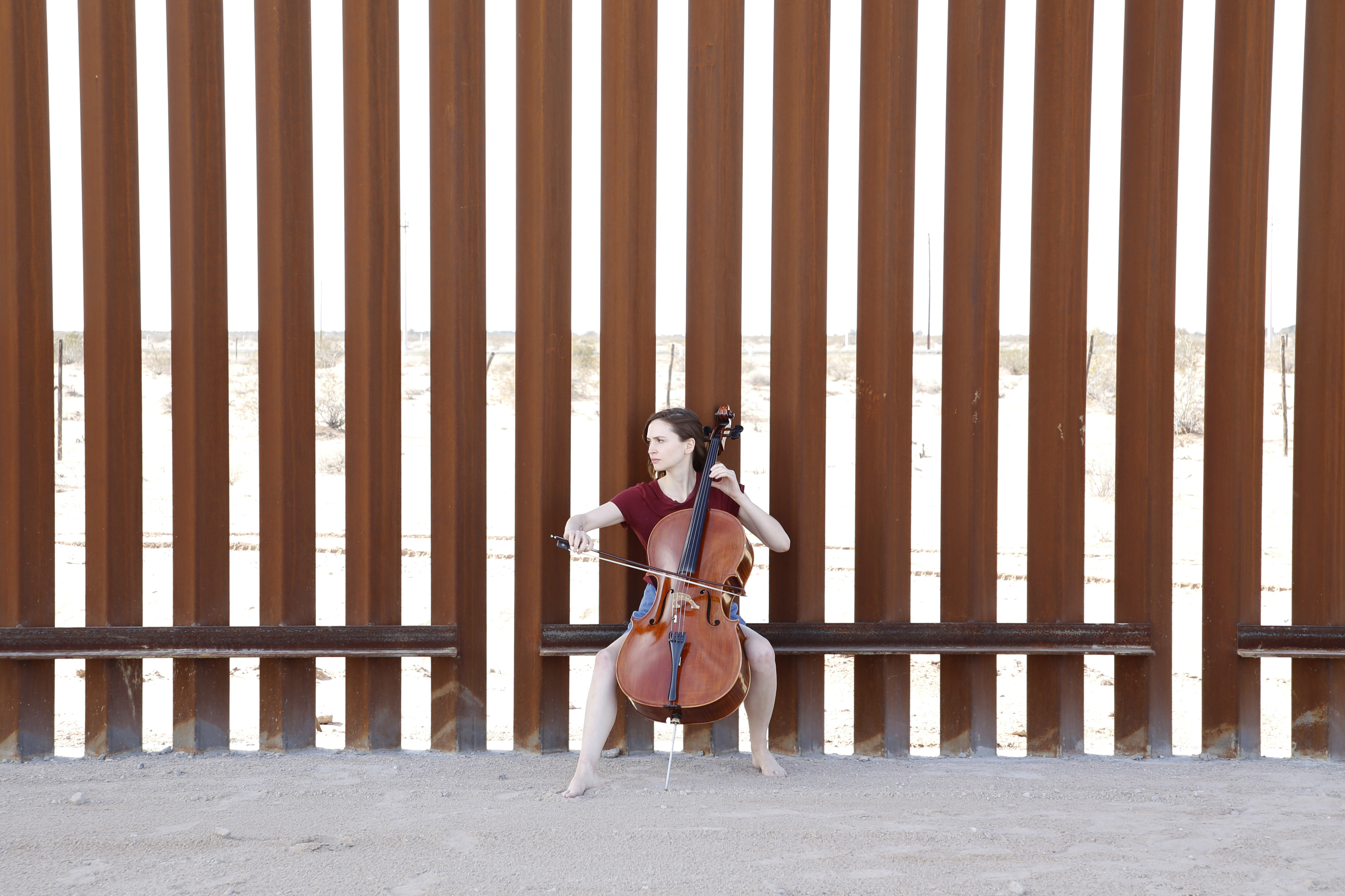 In Spring of 2020, American cellist and composer Mariel Roberts and Danish sound artist and composer Jacob Kirkegaard embarked on their first collaboration to create an electro-acoustic, evening length work in response to the border "wall" which is meant to divide the US and Mexico.
Using extra sensitive equipment, Kirkegaard and Roberts traveled along the 600 mile border fence which runs from Texas to California to capture the sound of the objects and atmospheres which define the experience of the region. The source material for this work was captured by attaching vibration sensors directly onto the border fence, which make it possible to hear the resonances of the various types of metallic structures which make up the barrier.
These recordings are used both within and as inspiration for several compositions which comprise an approximately hour-long work for solo cello and the audio recordings of the fence. Each recording location is expressed as a "movement" within the work, which highlights its individual character and rich individual frequency set. The piece weaves the sound world of the heavily amplified micro-acoustic material from the border region with the sound of the live performer to create a dialogue between the subject and observer.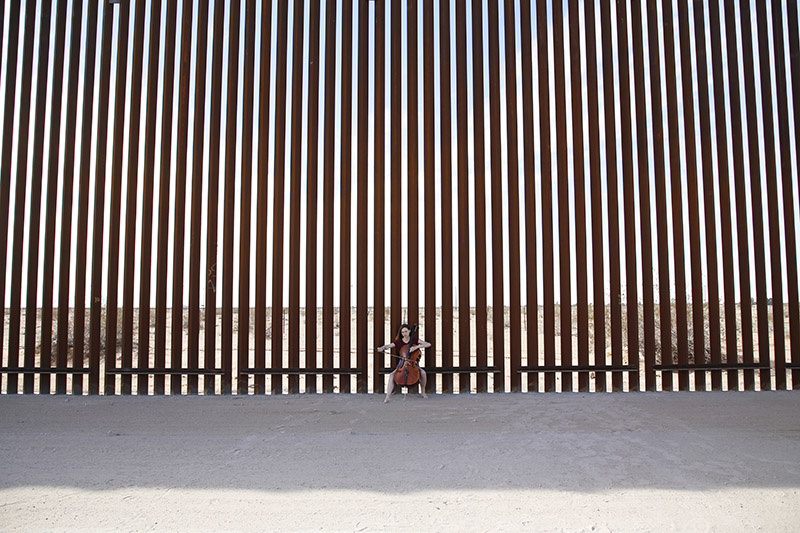 O P U S M O R S
A sound work on four significant death spaces
Live at CTM 2020 - LIMINAL in Berlin, February 2nd, 2020
PREVIOUS: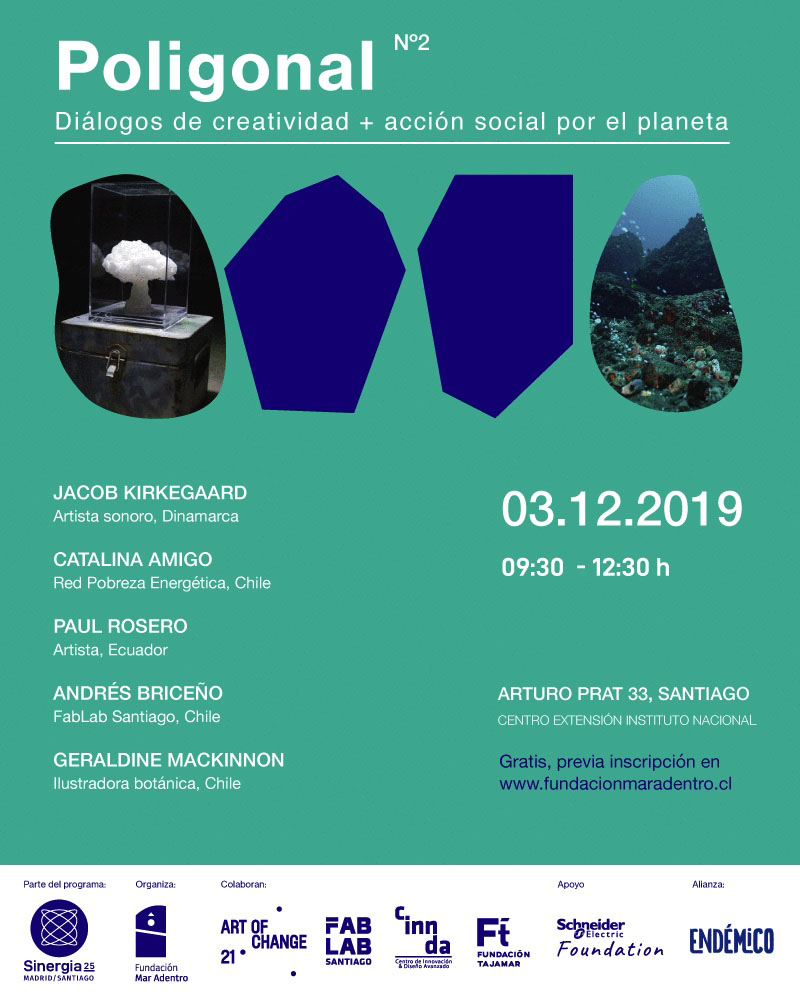 Te invitamos a Poligonal Nº2 Diálogos de creatividad + acción social por el planeta, que considerará una charla sobre arte y ecología del artista ecuatoriano Paul Rosero, una performance sonora del artista Jacob Kirkegaard, seguido por un diálogo sobre cómo la crisis climática es también una crisis social entre Jacob Kirkegaard (artista danés), Catalina Amigo (especialista en estudios socioambientales de Red Pobreza Energética de Universidad de Chile), Andrés Briceño (arquitecto y Director de FabLab Santiago) moderado por Geraldine Mackinnon (Ilustradora botánica).
Martes 3 de diciembre 9:30 - 12:30 h., Centro de Extensión del Instituto Nacional. Gratis, previa inscripción en: https://cutt.ly/poligonal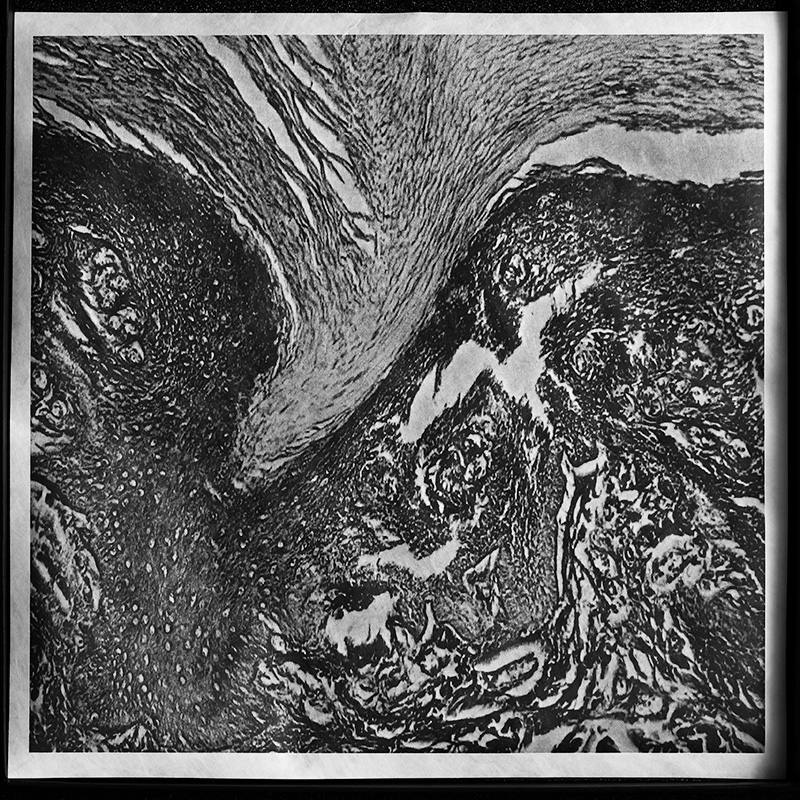 O P U S M O R S
A sound work on four significant environments
for the immediate post-mortem

Four listening spaces for one of the existential and natural aspects of being alive, which is death.
The project portrays four sound environments that the human body commonly will be surrounded by or exposed to in the immediate post mortem: a morgue, an autopsy, a cremation and the decomposition - events that no one will ever get to sense on their own bodies because of the very fact of death.
The work is an immersive, intimate and powerfully detailed sonic meditation into the four significant death spaces

OPUS MORS - UPCOMING AND CONFIRMED SHOWS:
Opus Crematio @ TOPOS showcase, G((o))ng Tomorrow Festival, Copenhagen, DK, November 8th, 2019
Opus Mors (1-hour version) @ Simultan Festival in Timisoara, Romania, November 10th, 2020
OPUS CREMATIO (OPUS MORS) live at Cave 12, Geneva, January 8th
Opus Mors (the entire 3-hour work) @ CTM 2020 - LIMINAL in Berlin, February 2nd, 2020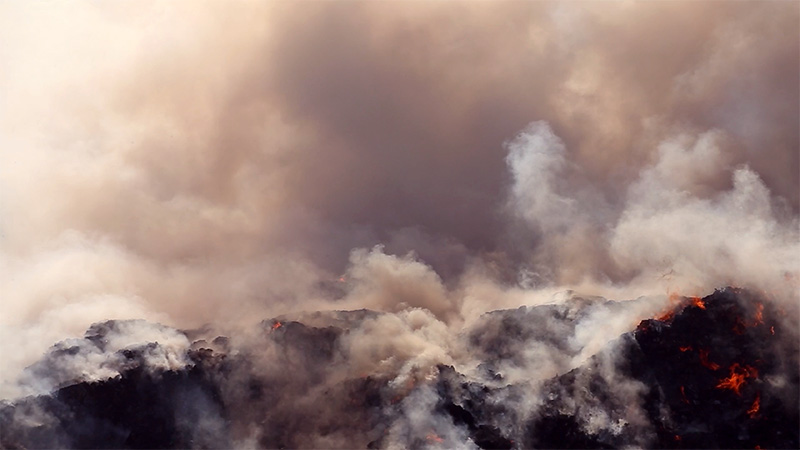 T E S T I M O N I U M

TESTIMONIUM is an audio-visual work created from recordings from waste, recycling and wastewater facilities
in Denmark and Latvia as well as from one of the world's largest landfills; the Dandora dumpingsite in Nairobi, Kenya.

Vibration sensors were placed inside piles of waste and on large incinerators. Underwater microphones were lowered underneath the surfaces of polluted rivers and large wastewater management basins. Acoustic microphones were pointed at bleak landscapes of burning plastic ignited by the wind. Like a testimonium from the past as if experienced from the future, these close-up recordings of human generated waste offers an intimate revisit into human discarded matter, their metamorphic journeys or absorbing endurance.

Denmark: BIOFOS Denmark, Reiling Glasrecycling Denmark, STENA Recycling, ARGO, Vestforbraending. Latvia/Estonia: WasteArt project NOT out of sight NOT out of mind Campaign, IES, ZAAO Ltd (LV), MoKS (EE), Evelyn and John Grzinich. Kenya: Nao Takeuchi, Waste Management Unit, UN-Habitat, David Makori; Chief Environment Officer,
Wambua Ndaka; Site Manager at Dandora Dumpsite, Nairobi City County and Mohamed; leader of waste pickers at Dandora Dumpsite, Nairobi


TESTIMONIUM - UPCOMING AND CONFIRMED SHOWS:
World premiere in Nairobi, Kenya (UN Habitat exhibition) May 31st, 2019
Nuuk Art Museum, Nuuk, Greenland (As installation throughout the month) August 8th, 2019
ULTIMA Festival, Oslo, Norway (8-channel live version + installation throughout festival), Sep 13th, 2019
Parasound/Paradox film festival, Leipzig, Germany, November 2nd, 2019
DR Koncerthuset, Copenhagen, Denmark (organised by ArtFreq - prior to concert with Efterklang) November 6th, 2019
BIG EARS FESTIVAL, Knoxville TN, USA, March 26th-28th, 2019





Jacob Kirkegaard © 2019


Portrait of artist Jacob Kirkegaard and the making of TESTIMONIUM
This portrait was created by John Grzinich in Spring of 2019 on ocassion of the exhibition "NOT out of sight, NOT out of mind"
TOPOS - a curatorial platform for mediated matter and ideas

TOPOS was founded in 2019 by the three artists and composers, Jacob Kirkegaard, Tobias R. Kirstein and Niels Lyhne Løkkegaard, to pursue their shared commitment to cross cultural and cross media activities that move beyond the strictures and boundaries of separate fields and disciplines. Its projects and program use various modes of presenting, publishing and releasing contemporary and archival material, generated or discovered by TOPOS.
TOPOS is collaborating with Julie Martin, Director of Experiments in Art and Technology (E.A.T.) to research and publish selected material from the organization's extensive archive of sound recordings that include performances, interviews and other sound material produced by E.A.T. activities over the past 50 years.
On September 3rd TOPOS will launch with four new albums, one of them a double vinyl gatefold release of John Cage's Variations VII which was part of E.A.T.'s legendary 9 Evenings in NYC in 1966. On this event TOPOS will also present Variations VII live. The co-producer of the original 1966 event, Julie Martin will be performing Variations VII with TOPOS.
Read more about the performances, releases and mission on their website by clicking on the logo above.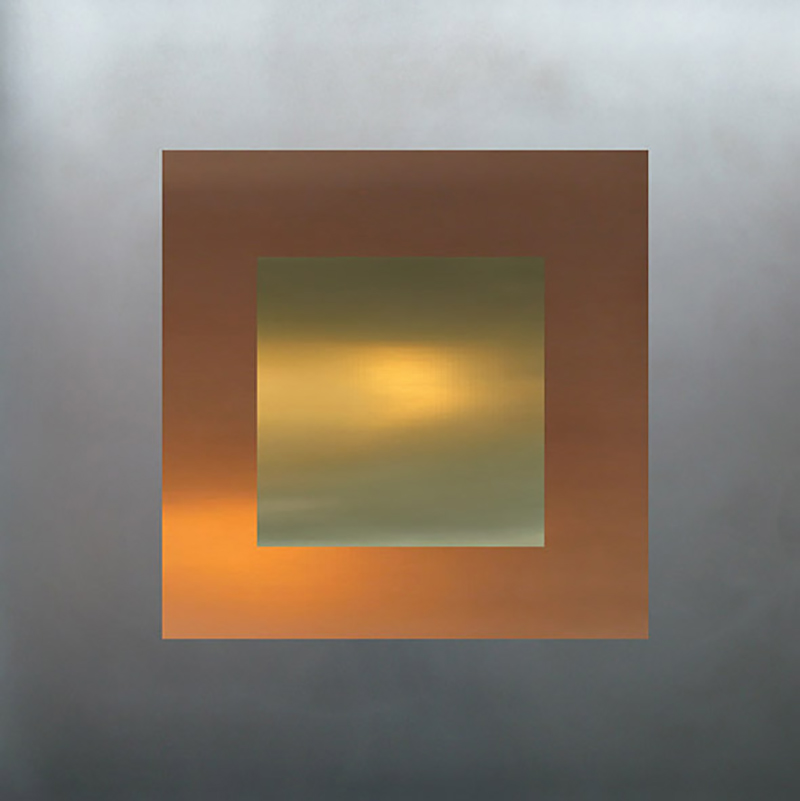 P H O N U R G I A M E T A L L I S
&

B L A C K M E T A L S Q U A R E

TWO NEW RELEASES on IMPORTANT RECORDS, USA:

Phonurgia Metallis (CD)
Read more about the original work HERE

Black Metal Square (LP)
Read more about the original work HERE

The Wire announcement HERE
copyright © jacob kirkegaard
all rights reserved 2022
fonik.dk | 2002